When it comes to cooking you need to be prepared for one thing.  You're going to be measuring a lot.  Any recipe, any serving size, any food activity means you're going to have to scoop, spread, spoon, and sort a wide variety of ingredients.  A cup of this, a tablespoon of that, a half-cup of whatever… it's pretty complicated, even if you're following a recipe.  Plus, there's always the complication of needing a dozen different scoopers and hoping they are actually accurate.  Fortunately, there's help on the way.  The Smoon is a self-measuring digital spoon that follows recipes as you scoop out your ingredients.
Feast your eyes (see what I did there?) on this informative video!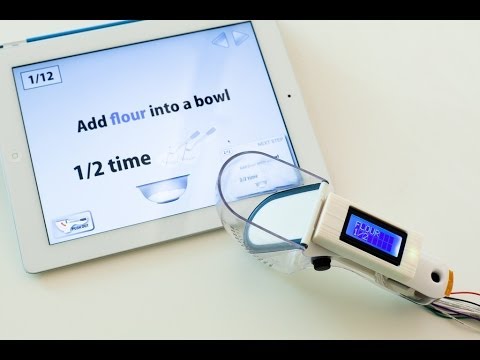 Okay, so you can't exactly buy a smoon right now, but the fact that there's a working prototype suggests that there may be a future in the smoon after all.  The fact that it can sync up to a recipe as you go through the measurements is very impressive, as is its ease of scooping and leveling.  I really love that design of scoop, though if I were changing it, I'd make it so the smoon would also self-scrape with the push of a button.  If I want a half-cup of peanut butter, the smoon should make that happen as precisely as possible.
Visit the smoon's website for more videos.
Technorati Tags:
adjusting spoon
,
Appliances
,
automatic spoon
,
cooking
,
digital spoon adjusts to fit recipes
,
electric smoon
,
kitchen tools
,
smoon
,
spoon
,
unusual objects
,
unusual utensils
,
utensils